Today in this article, we will see why do we celebrate teachers day, the story behind teachers day celebration, and what makes teachers so special.
5th September, also known as teacher's day, is celebrated to mark our teacher's contribution to our lives and this world.
"The duties of a teacher are neither few nor small, but they elevate the mind and give energy to the character." -Dorothea Dix
Story Behind Teacher's Day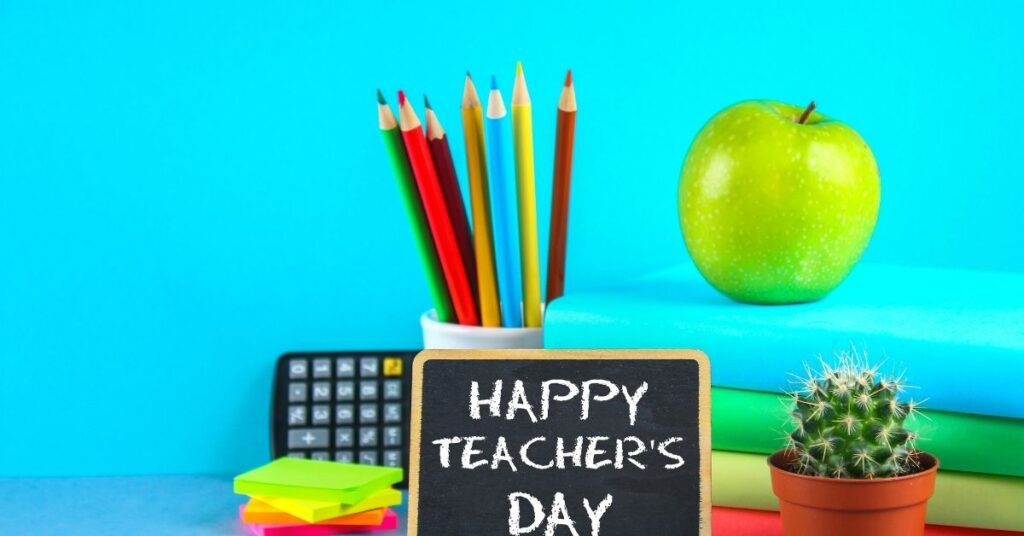 5th September even marks the birth anniversary of a great teacher Dr. Sarvepalli Radhakrishnan, a well-known scholar, diplomat, and the president of India. Above everything, he was a great and well-known teacher.
When his students came up to him and asked him to celebrate his birthday, he refused and asked them to celebrate their teachers instead of his birthday. He said it would be his privilege if his birthday, 5th September, were observed as Teachers day.
Since then, 5th September has been marked as teacher's day in India.
Even Pandit Jawahar Lal Nehru, one of the closest friends of Dr. Radhakrishnan, said many great things about him, like how he served the country in great ways and how we continue to learn new things from him every day. India's great philosopher, humanist, educationalist is the type of man India upholds and values every day. 
Read More: Motivational Quotes For Teachers
About Sarvepalli Radhakrishnan
Born on 5th September 1888. Dr. Sarvepalli Radhakrishnan was born in a middle-class family in Tirutani to a father who did not want his son to learn English. Being a bright student, he went to school at Tirupati and then Vellore. He then attended a Christian college in Madras, where he was drawn to philosophy by accident.
Dr. Radhakrishnan became a great philosopher as a result of his faith, concentration, and strong convictions.
Dr. Radhakrishnan taught in Presidency school in Madras in his early days, and then at less than 30 years old, he was offered a professorship in Calcutta University. Between 1931-36 he served as a Vice-Chancellor at Andhra University. In 1939, he became the Vice-Chancellor of Banaras Hindu University.
Two years later, he overtook the Sir Sayaji Rao Chair of Indian Culture and Civilisation in Banaras.
In 1952, he became the Vice President of the Republic of India, and then in '62, he was elected the Head of state and held the post for five years. 
Read More: Missing College Memories Quotes
What Makes a Teacher Special?
Since we were kids, we have known that education is one of the important fundamentals in our lives, and education is provided to us by our teachers.
They impart knowledge selflessly with only having one goal to watch us succeed in our own lives. At schools, colleges where we spend 6-7 hours a day, they act as both our mothers and fathers and help us face the world. They make us understand the concepts of life.
Teachers are patient and spend their lives devoting themselves to their students.
Their achievements are their students' achievements. They take pride in how far a student they taught has come. During all our years, they only ask for one thing in return from us: respect and willingness to take in the knowledge they impart. They look after us like they have looked after their kids.
Teachers are a blessing that we as kids often take for granted. From a scientist to a president, everyone owes their success to their teachers. They shape our lives; they build the foundation for our paths in life. Teachers have the power to change lives, and that is one of the most important jobs in society to exist whether it's at the preschool level or college level, they do change our lives.
Teachers tend to look at both the negatives and positives in a child and help them work upon them. Make their negatives, positives and try to help them become a better version of themselves. 
Read More: Exam Motivational Quotes
Role Models
For most of the students, their teachers tend to be their role models in their lives. Students look up to them. They are invaluable possessions that are irreplaceable.
They have equal compassion, respect, appreciation, and understanding for each other.
Even after years, many students tend to contact their teachers for advice. Many try to remain in contact with their teachers because that's who they owe. They are who they are because of them.
Teachers motivate them to try harder, work better, be confident, be kinder, overall be a better human beings.
The power of education and dedication that is only provided to us by our teachers plays an important role in our lives. Because of these humans, countries can grow and reach where they are.
We all should take a moment and be grateful for the teachers who helped us shape our lives and become the best version of ourselves. We should be thankful that they taught us never to give up on ourselves and only work harder.
That's all for now. Hope you like the article and answer the question "Why do we Celebrate Teachers Day." If you have any confusion, then comment down below.